Blog Archives
Barriers for women's achievement and career advancement are pervasive and pernicious. The belief that the 'glass ceiling' has been shattered is itself a barrier. Societal prejudice and stereotypes create ongoing barriers. Career advancement for women is thwarted by a lack of women in the 'C' suite and thus a lack of role models who advance to mid-level leadership roles. Qualities associated with leadership mimic male attributes. A long-standing barrier for women exists in a lack of access/entrance to the 'good ole boys' network. Networking is crucial in career advancement, but the opportunity to network with peers is lacking for women. Women are often forced with difficult decisions regarding work-life balance when pursuing their career. Limited availability for after-work obligations, travel, or training is reflected in job evaluations.
Impostor Syndrome – not feeling 'good enough' – affects how women react to workplace discrimination; how they choose their careers; and how they leave a career (quietly, leaving unresolved issues behind). It starts early for women and can determine what classes they take in high school and college. Reduced confidence can become a self-fulfilling effect in their lives. Internalizing, rationalizing, and avoidance of barriers reduce their chance of career advancement.
What can companies do to develop female talent within their organizations? Companies need to acknowledge 'Second-Generation Gender Bias' – a bias which creates an environment reflective of the values of men in the workplace, but includes subtle discrimination against women. Female talent development needs to recognize ability, ensure equitable professional development, provide access to peer-networking opportunities, and afford women affirmation through the creation of leadership identity. It is enhanced when more women are placed in leadership roles. This counters a male-oriented work culture that only values gender-based qualities and maintains the status quo.
There are many things women can do to promote gender equity including promoting discussion of gender bias in their workplace. They can be positive role models for and mentors to their female co-workers. And, self-advocacy is so important, as well. Women can build communities of support within companies where they feel safe to give candid feedback, discuss sensitive topics, and provide emotional support for each other.
Gender inequity starts early and continues throughout a woman's life. Education of all stakeholders can make a real difference for women in the workplace. Women excel at all levels of education; grades; participation in GT programs, AP classes; and graduation rates. Yet, fail to rise to the highest levels in the corporate/academic world. Women at all ages should not be discouraged in seeking careers in male-dominated fields. Educators must acknowledge and address the 'confidence gap' that female students increasingly face over time in areas such as math & science. New approaches to education that can improve outcomes for women include design thinking, AI integration, and STEM equity.
There are many things that can ensure gender equity in the future including investing in lifelong learning opportunities, offering flexible work schedules and environments, and encouraging work-life balance. Gender equity in the workplace can be accomplished if companies mandate gender equity, establish a chief diversity officer, consider drawing workers from a broad diverse talent pool, and create open lines of communication.
This week we celebrated 10 YEARS of #gtchat on Twitter and were excited to welcome @DeborahMersino ~ founder and first moderator of Global #gtchat ~ as our guest!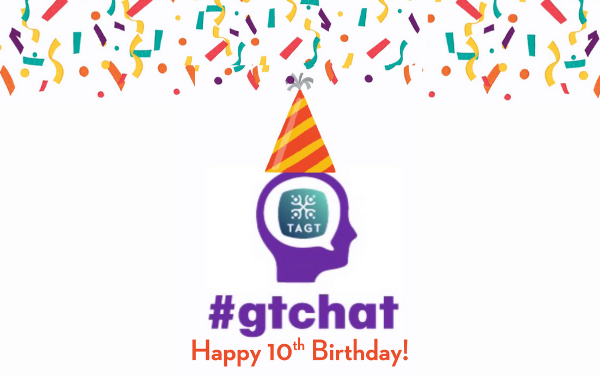 A transcript of this chat can be found at Wakelet.
Global #gtchat Powered by the Texas Association for the Gifted and Talented  is a weekly chat on Twitter. Join us Thursdays at 8E/7C/6M/5P in the U.S. and Fridays at 2PM NZDT/Noon AEDT/1 AM UK  to discuss current topics in the gifted community and meet experts in the field. Transcripts of our weekly chats can be found at Wakelet. Our Facebook Page provides information on the chat and news and information regarding the gifted community. Also, checkout our Pinterest Page and Playlist on YouTube.
Resources:
6 Barriers for Women's Career Advancement
Women Rising: The Unseen Barriers
Who Will Lead and Who Will Follow? A Social Process of Leadership Identity Construction in Organizations (pdf)
Impossible Selves: Image Strategies and Identity Threat in Professional Women's Career Transitions (pdf)
Negotiating in the Shadows of Organizations: Gender, Negotiation, and Change (pdf)
Taking Gender into Account: Theory and Design for Women's Leadership Development Plans (pdf)
Barriers for Women to Positions of Power: How Societal and Corporate Structures, Perceptions of Leadership and Discrimination Restrict Women's Advancement to Authority
Women are "Bossy" and Men are "Decisive": What Gender Stereotypes Really Mean in the Workplace and How to Overcome Them
Defining Female Achievement: Gender, Class, and Work in Contemporary Korea (pdf)
Women in the Boardroom A Global Perspective (pdf)
Top 10 Work Force Trends to Watch in the New Decade
The Future of Women at Work: Transitions in the Age of Automation
Women in C-suite: Navigating Invisible Obstacles
New Study Reveals 6 Barriers Keeping Women from High-Power Networking
Women in the Workplace: A Research Roundup
Girls Get Smart, Boys Get Smug: Historical Changes in Gender Differences in Math, Literacy, and Academic Social Comparison and Achievement
'Women and Leadership: Defining the Challenges' in Handbook of Leadership Theory and Practice (book)
Why A Post About Women Downplaying Their Awesomeness Went Viral
Additional Resources:
The Invisible Obstacles for Women
Social Norms as a Barrier to Women's Employment in Developing Countries (pdf)
Dismantling Perceptions, Attitudes, and Assumptions: Women Leaders are Interested in Advancement
Invisible Women: Data Bias in a World Designed for Men (book)
School Is Not Working for Too Many Boys and Nobody Wants to Talk About It
Image courtesy of Pixabay  Pixabay License
Graphic courtesy Lisa Conrad.
Photo courtesy of Deborah Mersino.
Photo courtesy of the Texas Association for the Gifted and Talented.
Image courtesy of Jo Freitag of Gifted Resources (AUS).
What Is Impostor Syndrome? That was the question we attempted to answer during #gtchat as well as ways to combat it. Feeling like a fake, just lucky, or false modesty are all characteristics of Impostor Syndrome. It is at the crux of social anxiety; yet, unlike simple insecurity, it drives one forward.
Highly successful; highly accomplished people often suffer from Impostor Syndrome. More women than men express feelings of being a fraud. More so minorities; those from low SES suffer from it.
Why does Impostor Syndrome happen in successful people? One reason is too much praise too early. When failure inevitably comes, one questions oneself. Also, when normal means coming in first, second place feels like failure.
What can be done to combat Impostor Syndrome? Realizing you are not alone. Many experience Impostor Syndrome; few talk about it. Pat yourself on the back. Remind yourself of what you've done. Find a mentor/become a mentor. Remember … a little humility can go a long way.
A full transcript may be found here.
Links:
Phony Impostors or Merely the Burden of Great Potential? 
Redefining Success: Owning My Achievements

'I Always Feel Like a Failure…'

Women Entrepreneurs: Are We Successful Impostors?

Are There Downsides to Success? The Third Metric

Do You Suffer From Impostor Syndrome?

TED@NYC: Impostor Syndrome, Activate!

Feeling Like a Fraud? You're Not Alone 

10 Signs That You Suffer From "Impostor Syndrome" At Work

The Curious Case of Impostor Syndrome from Byrdseed Gifted

Is Impostor Syndrome keeping women out of open technology and culture?

Managing Your Impostor Syndrome

How to Stop Feeling Like and Impostor
How I Cured My Imposter Syndrome

Expert Enough, Take 2: Why Impostor Syndrome Matters & How to Overcome It
@gtchatmod on Twitter (aka Lisa Conrad) will be attending the TAGT's Annual Conference in Dallas, November 28 – 30, 2012 and TAGT's Parent Conference on November 30th.
Lisa will be presenting at both conferences. You can hear her on Thursday @4PM to 5PM, "Why You Should #gtchat on Twitter" (Room: Pearl 4); on Friday @ 7:45AM to 8:45 AM, "Twitter Chat 101" (Room: Pearl 4); and again on Friday @1:40PM to 2:30PM, "Collaboration, Not Confrontation: Parents and Teachers Working Together" (Parents' Conference, Room: Austin 3).
On Friday, November 30th, #gtchat will be live from the Social Connections Area in the Exhibit Hall. It will begin @10:30AM CT for conference attendees (although everyone is invited online) and from 11AM to Noon CT [Find your time here. ] on Twitter. Our topic will be, "Building Bridges with #gtchat". Following chat, there will be a 40 minute Tweet-Up for those at the conference.
Social Connections Area (2011)
Chat participants on Twitter are invited to tweet about how they have connected with others via #gtchat and how it has affected their lives. Many friendships have been made and many hours of professional development have been delivered since its beginning in January 2010.
#gtchat strives to provide a place where the conversation can take place and then take off. We plan to continue to showcase leaders in gifted education as well as tackle the tough issues such as parent-teacher relations, impostor syndrome, executive functioning and the mythology surrounding giftedness (January 2013).
In preparation for this chat, I have provided some of the questions that will be presented during the chat on November 30th. It is hoped that online Tweeps will share with conference attendees the benefits of weekly chats.
Questions:
1)      How has #gtchat connected you to the gifted community?
2)      How do you use Twitter in your daily life?
3)      How has #gtchat affected how you parent/teach?
4)      Are you involved in other Twitter chats?
Hope to see you all in person or online!
Lisa (@gtchatmod)